The Big 30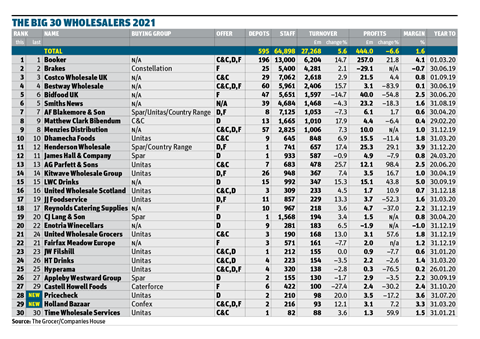 It's been a year like no other. And let's hope, as the nation tentatively starts to move out of the nightmare that has been the Covid-19 pandemic, there will be no more years like it to come.
Just 12 months ago, the biggest issue dominating the wholesale sector was whether businesses should move to a delivered or cash & carry model. That was before it become clear how big an impact this new virus would have on the sector, and life in general.
For wholesale, it has been a tale of the good, the bad and the ugly. On the good side, there have been huge sales increases in grocery. On the bad, a breakdown in communications with suppliers, leading to major availability issues. Then there's the downright ugly impact of the hospitality shutdown on foodservice specialists – a situation that has only been made worse by a lack of sector-specific support from government. And that has turned upside down the fortunes of wholesalers.
For a long time, the considered wisdom was that grocery wholesalers should increase their presence in foodservice. That made sense as the lines between food to go and takeaway blurred, and more and more food was consumed away from home.
But ironically, the operators that resisted that move have fared best in this new climate. Wholesalers such as Parfetts, Bestway, JW Filshill and Dhamecha saw a sharp spike in sales last March as shoppers flocked to convenience stores in the initial throes of lockdown. They have been able to maintain higher-than-normal revenues ever since.
"Since the start of the pandemic more of our retail customers shopping through C&C," notes Bestway Wholesale MD Dawood Pervez, "as delivery slots have been limited, and customers wanted to make sure of availability of supply to meet their growing demand.
"Grocery, fresh, frozen and alcohol sales have been the key beneficiaries in terms of upsell during this period," he adds.
JW Filshill chief sales and marketing director Craig Brown says sales have increased 25% during the pandemic. "We have had a year of unprecedented growth. Our convenience partners have averaged almost 20% growth in their retail sales for the full year," he says. "Our ability to cope and deliver exceptional service during times of peak trading has exceeded existing customers' expectations and delivered a greater number of enquiries to join our symbol group than ever before," he adds.
For many wholesalers, that ability to adapt to such a tough period and high level of demand is a source of pride. "Seeing our staff handle the intense and dangerous period of the first lockdown was the highlight of the year," says Time Wholesale Services MD Sony Bihal. "Our staff pulled together, planned and served. I am very proud of our team."
But this extra work hasn't necessarily led to increased profits. Parfetts joint-MD Greg Suszczenia can testify to that. "We had some dark days very early on. The business has done well, but it's not been easy in any way, shape or form. We haven't massively improved our margins," he explains.
Extra financial costs for wholesalers came in terms of hiring more staff and buying in PPE. This had an impact for cash & carry operators, of course – but for those wholesalers with company-owned stores, it was accentuated still further.
"The business has done well, but it's not been easy in any way, shape or form"
Like AF Blakemore, which incurred costs of over £1m implementing Covid-19 measures, spending £250,000 on installing in-store screens across its managed estate. As a wholesaler that deals in both sectors, Blakemore was also one of those whose improvements in grocery sales were either mitigated or cancelled out by foodservice declines.
There was a similar story at the UK's biggest wholesaler, Booker. "Caterers have been restricted due to lockdowns. Retailers have seen increased demand," says Booker CEO Charles Wilson, who stepped down after 16 years at the helm last month.
(Video) Cracking Open My First Ever Bale Of Clothing! | 45kg To Resell | eBay UK Reseller 2021
The net effect, alongside the strains of the pandemic, has been a negative impact on the bottom line. "Profits are depressed by the decline in catering sales and the increased costs of Covid," he reports.
But he's keen to emphasise the positives. Premier, Londis and Budgens have had record years, for one. "Overall Booker is in good shape," says Wilson. "Customer satisfaction has been good. Colleagues and customers have done a brilliant job at keeping the nation fed during extraordinary times."
It's a strong legacy to build on, adds Wilson's replacement Andrew Yaxley: "What a privilege it is to continue the Booker journey and take over the reins from Charles. Booker is a great business: from our people, to the simplicity of its operation, along with the focus and passion for customers."
Another operator experiencing mixed fortunes – albeit on a much smaller scale – was north London wholesaler Holland Bazaar. Half the wholesaler's business is cash & carry, 10% delivered wholesale and 40% foodservice. Although the foodservice side did take a hit, director Mert Ucar explains the business has still managed strong single-figure sales growth.
"The closure of restaurants and hospitality outlets had an impact in a negative way, but we have a multichannel customer base (restaurants, coffee shops, takeaways, convenience stores, secondary wholesalers and even households), which is one of the key reasons for our 8% growth during the Covid-19 crisis," he says. "Although one side of our customer base was hit, sales on the other side went up significantly."
Supermarkets cashing in on wholesaler territory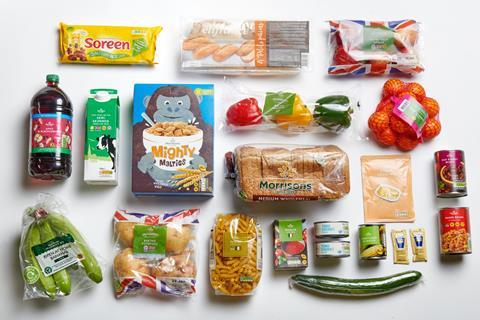 The Morrisons £15 school meal box
The big four are moving ever further into wholesale retail territory. This week, Morrisons extended its wholesale supply agreement with McColl's by a further three years (to 2027) and 230 stores (ie the full estate).
Meanwhile, Sainsbury's trial with SimplyFresh is scaling up, and speculation is increasing over whether the Issa brothers will begin using Asda to supply their EG forecourt estate, which could see Spar sidelined after 17 years.
"We haven't seen the full impact of this changing landscape yet," says FWD CEO James Bielby. "But it's fair to assume it will lead to consolidation in the indie retail sector as supermarkets erode wholesale share."
But the pandemic also appears to have emboldened supermarkets to target foodservice business too, including schools, nurseries, care homes and more.
In October, Morrisons launched a wholesale food box service aimed at not-for-profit and public sector organisations such as food banks, local councils, universities and schools which needed hygiene products and food in bulk for the vulnerable: a service that was also being fulfilled by foodservice wholesalers.
In January, Asda also launched its 'Priority Pass' scheme for nurseries, customers who have traditionally favoured shopping at cash & carry locations. It offered 5,000 childcare providers first-in-line recurring delivery slots.
Wholesalers are also reeling from the government's u-turn in reintroducing £15 free school meal vouchers following the Chartwells fiasco.
This is the most acute example of supermarkets taking revenue directly from wholesalers – but to be fair it was facilitated by government not the mults. Nonetheless there's a feeling, as Bielby put it in January, that with "supermarkets long [having] had their eye on expanding into out-of-home food, government policy is aiding that ambition.
(Video) BELLELILY REVIEW! DON'T USE BELLE LILY Before Watching THIS VIDEO! BELLELILY.COM
"It is incredibly damaging to food supply, to vital services and to the diversity of food provision in the UK," warned Bielby.
With Amazon an additional threat, foodservice operators hope their customer service will endure after lockdown. But new habits have formed and digital investment in the foodservice sector has inevitably been cut.
Demand challenge
Sales went up so significantly, in fact, that getting enough products to meet that demand was the tricky part. Early on in the crisis last spring, grocery wholesalers were struggling to source their fair share of products from many suppliers.
Bestway was one of those affected. "Getting supplies of certain in-demand products was challenging during the start of lockdown," says Pervez. "This was partly due to demand from large supermarkets."
So he decided to take action through the Federation of Wholesale Distributors (FWD). Pervez was initially reticent about raising the issue, he told The Grocer last year, mainly out of fear of offending peers on the foodservice side. He was uncomfortable about seemingly complaining that his business and other grocery wholesalers were unable to keep up with demand when many foodservice operators had lost most of their sales overnight due to the hospitality shutdown.
However, the FWD recognised the severity of the issue, seeking to understand the cause and resolve it. The cause was understandable but misunderstood. To meet soaring demand, suppliers focused on a stripped-down range of bestselling lines to keep the food and drink supply chain moving and feed the nation. Many traditional convenience pack sizes and products with price-marked packs were cut at this time, leaving wholesalers and convenience operators vying for the same packs as the supermarkets.
Suppliers were then basing where to allocate product on algorithms created by previous purchasing history – which wholesalers didn't have, meaning they missed out. The frustration spilled over particularly when suppliers such as Heinz launched a direct-to-consumer operation, despite struggling to meet wholesale orders.
"The wholesale community came together immediately"
In April the FWD, along with the Association of Convenience Stores, working with Defra, persuaded the Food & Drink Federation to write to all supplier members calling on them to ensure fair allocations to the wholesale and convenience channels. A move that saw the situation begin to resolve almost immediately.
"Overall, we have found supply and service has since improved as both parties try to work together and manage forecasting on a day-to-day basis," says Pervez.
That's a crucial point here. Because one defining feature of the crisis has been the newfound solidarity between previously fiercely competitive rivals across different sectors, led by the FWD, as well as other key industry figures.
"The wholesale community came together immediately," says Country Range Group CEO and FWD chairman Coral Rose. "A WhatsApp group was set up by FWD and a year later it is still being used for immediate communications. It has brought the FWD much closer to its members and given them a greater understanding of what the trade association can do."
That solidarity has been a crucial tool in highlighting the biggest issue in the industry: the plight of specialist foodservice wholesalers. The sustained periods of hospitality shutdowns, on-off reopenings, tier restrictions and school closures have devastated businesses of all sizes, from the foodservice giants like Brakes and Bidfood to smaller specialist and regional operators.
Despite being chosen to lead the government's shielding box delivery programme to feed the most vulnerable, Brakes and Bidfood have both confirmed major structural reorganisations, each affecting more than 1,000 jobs.
"The Covid-19 pandemic has had a significant impact on the foodservice industry, with the closure of most hospitality customers, some of whom have since announced administrations or permanent site closures," says Brakes communications director Matt Stewart. "We are expecting a lengthy recovery period, and the industry is likely to be materially smaller as a result of the pandemic.
"In order that we can continue to succeed in the future and service new and different customer needs, we have reviewed our entire business, resulting in a number of changes, which have included the closure of some smaller depots and overall reduction of colleague numbers," Stewart adds.
(Video) Bought 2 Pallets of AMZ Shoes! See the Good the Bad and the UGLY!
Bidfood CEO Andrew Selley tells a similar tale. "Covid-19 has had a devastating effect on the hospitality industry and the foodservice distributors that supply it," he says
"During this time, we have been able to pivot our business model and offset some of the impact by offering home delivery and click & collect services to consumers, and by delivering government care packs to the vulnerable. However, the extended restrictions on many of our customers, and the uncertain market conditions we continue to face, mean that it is highly unlikely that our business will return to the trading levels we saw prior to Covid-19 for some time."
FWD CEO James Bielby on the year in wholesale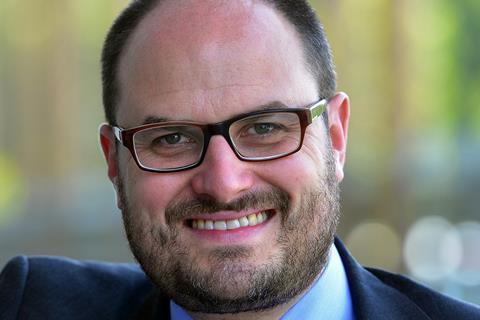 James Bielby, chief executive officer, Federation of Wholesale Distributors
As we come to the end of the first year of Covid-19's pernicious influence, the sheer resilience and resourcefulness of the brilliant wholesale sector is clearer than ever.
Throughout the year, wholesalers resolutely decided that whatever the virus threw at them, they wouldn't let their customers down.
Wholesalers went out every day to fulfil and distribute orders, even when the dangers weren't fully known.
Within days of the first lockdown, foodservice wholesalers flipped their business models to provide delivery services to members of the public struggling to get supermarket slots – using entrepreneurial spirit to help supply the public and offload some excess stock, too.
Throughout the year wholesalers stayed open to ensure schools, hospitals and care homes got vital supplies, trading at a loss to do so. Then cash reserves were exhausted further to stock up so hospitality customers could trade from the first day they were allowed to.
Grocery wholesalers also came out swinging to fight for fair allocation for the channel when sales boomed but supplies didn't keep pace. That's without mentioning the acceleration in the collection, analysis and sharing of data.
So there's plenty to be proud of. For FWD, we can point to the fact that the squeezed middle of the food supply chain has never had a higher profile with ministers, MPs, officials, national media or the public in general – and we couldn't have done that without members who have shouted about problems they have faced.
Thanks to these efforts, wholesale now has a dedicated team in Defra.
We have always said wholesale is innovative, adaptive and resilient, but the past 12 months have proved that beyond doubt. Perhaps a little more understanding of how food gets to the shelf or menu has percolated into the nation's consciousness as a result.
James Bielby
Direct to consumer
As Selley suggests, pivoting towards more direct-to-consumer trade has been one source of respite for these beleaguered businesses. One foodservice specialist to have used the model to successfully buck the prevailing trend is JJ Foodservice. Despite the tough climate, the Enfield-based wholesaler managed to grow overall sales during the calendar year 2020.
(Video) The Jury: the Good, the Bad and the Ugly in Wholesale
"While some businesses made large redundancies, we kept almost all of our team employed throughout the pandemic – it's our greatest success story," says head of operations Sedat Kaan Hendekli.
"We are currently investing in having the infrastructure in place to support our usual customers – and to anticipate changes in the market that may require us to take on more."
Sadly, a number of national and regional foodservice players have been less able to mitigate the impact as successful and well-run customers have been brought to their knees through no fault of their own. When these are family-run businesses, the impact is more heartbreaking.
"It is ugly. It has been terrible. The good, the bad and the ugly. Retail will survive. But for a lot of weaker players in foodservice this will be a step too far now and they will fall," predicts Tony Reynolds, MD of Reynolds Catering Supplies, which lost 95% of sales overnight at the start of the lockdown. "2019 was probably our best year. Our 2020 budget was looking even better. We've gone from hero to zero in 10 months.
"It's hard to put that into words – the trials and tribulations we have been through. We've all had to make sacrifices. Our customers are on the edge now. A lot of businesses out there are in a perilous state and that will take months to filter through. Once everything can be opened it will be on a cliff edge – there are just so many things that aren't good about that situation."
That's where the need for a joint effort has come in. The FWD has campaigned for months for sector-specific support. That's happened in Scotland and Wales, where the devolved governments set up special funds for wholesalers in December. There, grants are already finding their way to operators. However, foodservice wholesalers in England have battled through the crisis thus far without any such support.
When asked why English wholesalers appear to be treated differently from public-facing hospitality businesses such as pubs and restaurants in different parts of the UK – and of course major grocery retailers, many of which were given business rates relief despite a Covid-19-driven sales windfall – government representatives invariably cited how wholesalers could access the furlough scheme and could apply to local authorities for special discretionary grants, which are available to any business.
Finally, last week prime minister Boris Johnson offered wholesalers in England some hope. As well as setting out the roadmap to get us all out of lockdown, he also singled out wholesalers suggesting more help would be forthcoming.
"I am acutely aware of the businesses that have fallen through the cracks," he told Parliament. "Wholesalers, for instance, who find it difficult to qualify under one scheme or another. We are doing absolutely everything we can to make sure we give the support people want."
But in this week's Budget, foodservice wholesalers were once again left disappointed, as Chancellor Rishi Sunak made no mention of offering wholesalers specific relief, on the grounds that wholesalers are "reasonably accessible by visiting members of the public", an HM Treasury spokesman explained to The Grocer.
Two new entries make Big 30 debuts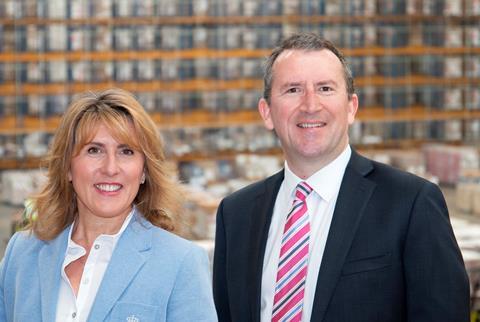 Mark Lythe and Debbie Harrison
This year sees two new additions to the Big 30: Pricecheck and Holland Bazaar.
Sheffield-based Pricecheck was founded more than 40 years ago but after moving into health and beauty wholoesale, joint-MDs and brother and sister combo Mark Lythe and Debbie Harrison (pictured) have taken it into household and food and drinks, and expanded it through exports. Sales rose 20% to £98m in the year to 31 July 2020.
North London's Holland Bazaar saw sales rise 12.1% to £93m for the year to 31 March 2020. Headquartered in Edmonton, the first Confex-member on our list is a family-run business. After starting out as a small fresh fruit & veg wholesaler, it opened its second depot in Croydon in 2017.
(Video) Buying Vintage Wholesale Clothing Guide | The BAD & The UGLY | eBay Reseller
While wholesalers may be eligible for access to restart grants, the government is hugely reliant on the sector in supporting the retail, hospitality and leisure sector as the country opens up in the coming months. Even if it stays open for good this time, there's no guarantee that wholesalers will survive.
FAQs
In 2020, there were 105,613 wholesale trade enterprises in the UK.
Sysco, a Fortune 500 company, is the world's largest food distributor with over 650,000 clients serviced through 343 distribution facilities worldwide across 90 countries.
James Hall & Co.

are an award-winning Lancashire-based family business founded in 1863. They operate as the primary wholesaler to SPAR retailers throughout the North of England, serving more than 640 SPAR stores.
Yes, it is legal to buy wholesale and resell.

In order to do so, you must have a wholesale license and a business license that corresponds with your type of company. For example, if you only sell online, you'll need an eCommerce business license.
Now encompassing over 5,600 stores the Booker retail symbol network has twice the number of the next largest symbol group or convenience chain in the UK.
Wholesalers buy products from manufacturers at a lower price than other businesses because they receive discounts for volume buying. They make money by selling these products to retailers for more than they paid, but still at a better price than the retailer can get directly from the manufacturer.
Booker is a trade only wholesaler and is not open to the general public. If you are not already a Booker customer and wish to open an account you must be over 18 years of age and the manager, proprietor or director of a registered business or charity.
In addition to wholesalers, distributors, and manufacturers, there are a few other ways that online retailers can stock their inventory affordably. These include: Using an importer, particularly for purchasing products from abroad.
Now SPAR is the world's largest food retail chain. Over 13,000 stores. 48 countries. And in the UK alone, approximately 2,600 stores, around 40,000 friendly staff and a turnover of £3bn+.
Trading under the name G&E Murgatroyd we have over 150 company owned SPAR stores across the North of England, keeping an extremely high standard of retail operation in each and every store.
The profit margin of a wholesaler per piece may be too small than a retailer but he actually makes more money as he sells in higher quantities than a retailer.
There are no legal limitations on wholesalers selling to the public. Wholesalers, though, make their money by selling in bulk. They also allocate their resources differently. Wholesalers don't spend as much time on customer service.
TYPES OF WHOLESALERS

The three categories used in the Census of Wholesale Trade are: 1) merchant wholesalers; 2) agents, brokers, and commission merchants; and manufacturers' sales branches and offices.
Tesco buys Booker

In a further development in the long march of Tesco towards supermarket dominance, it has purchased Booker, the grocery wholesaler, for £3.7bn.
Booker Group Limited is a British food wholesale operator and subsidiary of Tesco. In January 2017, it was announced that the British multinational supermarket retailer Tesco had agreed to purchase the company for £3.7 billion. It was confirmed on 5 March 2018 that Tesco had completed its acquisition of Booker.
Ans- This is a list of the 10 most profitable small businesses: Offices of Real Estate Agents and Brokers. Legal Services. Real Estate Leasing.
How to Start a Wholesale Business in 2021 - YouTube
Now encompassing over 5,600 stores the Booker retail symbol network has twice the number of the next largest symbol group or convenience chain in the UK.
Costco Wholesale Corporation operates an international chain of membership warehouses, mainly under the "Costco Wholesale" name, that carry quality, brand-name merchandise at substantially lower prices than are typically found at conventional wholesale or retail sources.
Amazon is not a wholesaler, it's an online retailer. The purpose of Amazon.com and most other retailers is to make a profit on the products they sell with a markup. Retailers will buy a product from a wholesaler for the lowest possible price, add a 50%-150% margin and resell the product in their retail store.
cash-and-carry in British English

1. sold or operated on a basis of cash payment for merchandise that is not delivered but removed by the purchaser. noun.
Related content
It is a testament to the resilience of the sector that despite a Federation of Wholesale Distributors survey in May 2020 finding over half of British wholesalers feared they would not last the year without significant government help, none of its members have since collapsed.. Since last year, several wholesalers have been publicly calling on suppliers to hike the rsps featured on price-marked packs as rising costs erode their margin.. Perhaps, Pervez suggests, it is because suppliers have spent the past two years fighting fires in terms of production and supply chain issues.. "For suppliers that have got an inappropriate shared margin or are pitching their price marks at the wrong price point, take the opportunity to talk to us first as to what those margins should be and what those prices should be," says Unitas Wholesale MD John Kinney.. Even wholesalers that have prospered in the past two years know things could have been better if supplier service levels had been higher.. The severity during the peak of the supply chain issues and following the fuel crisis last year, even led the government to draft in former Tesco CEO Dave Lewis as the prime minister's supply chains advisor.. Renewed supply chain pressures and soaring inflation does not sound terribly appetising for wholesalers but this is an industry filled to the brim with battle-hardened stalwarts who over the past two years have time and again demonstrated their resilience, flexibility and business acumen to keep on keeping on in the most challenging of circumstances.. Rank 2022Rank 2021NameBuying groupOfferDepotsStaffTurnover (£m)Turnover change %Profits (£m)Profits change %Margin (%)Year to11Bookern/aC&C,D,F1941479n/an/an/aFeb '2122BrakesConstellationF256,1004−18−235n/a−7Jun '2033Costco Wholesale UKn/aC&C297,0513152371Aug '2044Bestway Wholesalen/aC&C,D,F606,21038375411Jun '2055Bidfood UKn/aF465,2541−2018−561Jun '2166Smiths Newsn/aN/A371,6031−531113Aug '21710Dhamecha FoodsUnitasC&C968112818212Mar '2187AF Blakemore and SonSpar/Unitas/Country RangeD,F96,97715611Apr '2198Matthew Clark Bibendumn/aD1321184−60Feb '20109Menzies Distributionn/aC&C,D,F572,681924−87−341Dec '201111Henderson WholesaleSpar/Country RangeD,F2750699625134Dec '211212James Hall and CompanySparD195059612−680Mar '211313AG Parfett & SonsUnitasC&C76834782612983Jun '201414Kitwave Wholesale Group*UnitasD,F261,15939581−710Oct '201515LWC Drinksn/aD14845244−30−0−1010Sep '201616United Wholesale (Scotland)UnitasC&C,D3299239−0201Dec '191717JJ Food ServiceUnitasD,F11869221−491574Mar '211821United Wholesale GrocersUnitasC&C320521629102215Dec '201919CJ Lang & SonSparD1219432n/a1Apr '212023JW FilshillUnitasC&C,D12211912321441Jan '212126Appleby Westward GroupSparD2159174133152Sep '212225HyperamaUnitas/CaterforceC&C,D,F4280145511241Jan '212324HT DrinksUnitasC&C,D41231352231Mar '2124NEWWing Yipn/aC&C4373112−66106Sep '202527Castell Howell FoodsCaterforceF5557108−2272157Oct '212620Enotria Winecellarsn/aD9267101−46−7n/a−7Dec '202728Pricecheck*UnitasD226610062−422Apr '212829Holland BazaarConfexC&C,D,F32219864144Mar '212918Reynolds Catering Suppliesn/aF1081891−58−13−382−14Dec '203030Time Wholesale Services*UnitasC&C19084−11−91Jan '21TOTAL59263,260271.0%%−21n/a0
A 2010 brain cancer research study by California researchers found that CBD "boosts the inhibitory effects of THC on human glioblastoma cell spreading and survival." This means that CBD makes THC a lot more powerful as an anticancer substance.. One of the main ways is by mimicking and boosting the effects of the compounds in our bodies called "endogenous cannabinoids" – so named due to their similarity to substances found in the cannabis plant.. These "endocannabinoids" belong to what scientists refer to as the "endocannabinoid system.".. The discovery of the endocannabinoid system has considerably progressed our understanding of health and disease.. "Some people may just require 10 milligrams of full-spectrum CBD, however with isolate, even taking 80 or 100 milligrams may not have the exact same result," he says.. Plus, some brand names are not clear concerning their production and also screening processes.. Currently, we believe the best CBD brand names are listed here; in no particular order:. Diamond CBD is one of one of the most preferred and most potent brand names on the market today.. They carry all forms of CBD such as edibles, gummies, oils, creams, vapes and more.. Diamond CBD also carries CBD products for pets also.. CBD is legal in many parts of the United States, yet most producers require you to be at the very least 18 years of age to purchase their product.
Dropshipping is a simple business model that can be a lot less expensive than just selling through your own store or eBay.. There are tons of dropshipping solutions out there, from Printful to Oberlo .. There's a free initial plan for Modalyst which can help you to start exploring the services.. With a range of high-quality wholesale suppliers to choose from, you'll have no problem finding dropshipping products for your company.. Which dropshipping supplier are you going to work with?
The primary objective of the Integrated Review was to reconfigure UK defence commitments around a more realistic and achievable set of foreign policy goals.. Expected Future Structure of the British Army 2030 – All this is still a work in progress, the Defence Command Paper suggests that the Army will look something like thisIn addition to the above, there will be a Combat Aviation Brigade Combat Team, and an ISR Brigade with the Special Forces group unchanged.. However, the emerging organisational structure already seems more coherent than the previous one, which featured too many ad hoc infantry battalions that would have deployed without armour or artillery support.. The Defence Command paper suggests that there will be an increased investment in Boxer.. All three services are also capable of delivering a significant hard power effect, including the Army.
Get price Company List, List of companies, suppliers, distributors, importers, exporters, dealers, manufacturers.. ... rugs, laminate, sheet vinyl, luxury vinyl tile and wood flooring in the North American market.. ... rugs, laminate, sheet vinyl, luxury vinyl tile and wood flooring in the North American market.. Wholesale only.. Wholesale Central is a B2B directory that helps wholesale buyers find wholesale suppliers and …. Get price Wholesale flooring and tile suppliers: eSources is the largest trade directory of wholesale tiles and flooring suppliers, distributors, manufacturers, importers and wholesalers in the UK.If you are looking for reliable flooring and tile suppliers, eSources is the ideal resource for your sourcing needs... Get price Wholesale flooring: eSources is the largest trade directory of wholesale suppliers, distributors, manufacturers, importers and wholesalers in the UK.If you are looking for reliable flooring suppliers, eSources is the ideal resource for your sourcing needs... Get price · Kangda is one of the largest exporters of wood flooring in China.. Get price J Goodin is the largest wholesale manufacturer in fashion jewelry today.. Get price Top wholesale products directory listing • Featuring wide range of wholesalers and distributors from China, Asia and worldwide on Global Sources.. Get price Wholesale flooring and tile suppliers: eSources is one of the fastest growing international trade directories of wholesale tiles and flooring suppliers, distributors, manufacturers, importers and wholesalers.If you are looking for reliable flooring and tile suppliers, eSources is the ideal resource for your sourcing needs... Get price Plastic Floor manufacturers & suppliers, China Plastic Floor manufacturers, suppliers & factory directory, find Chinese Plastic Floor manufacturers, suppliers, factories, exporters and wholesalers easily on Made-in-China.com.,page3 ... Lt 6mm Thickness Vinyl Spc Flooring Plank for UK Market.. Get price Wholesale Factory Direct Luxury Vinyl Flooring PVC Flooring.. Get price China PVC Vinyl Flooring manufacturers - Select 2021 high quality PVC Vinyl Flooring products in best price from certified Chinese Waterproof Flooring, Antistatic Flooring suppliers, wholesalers …. Get price